The Ultimate Guide to the Top 100 Etsy Sellers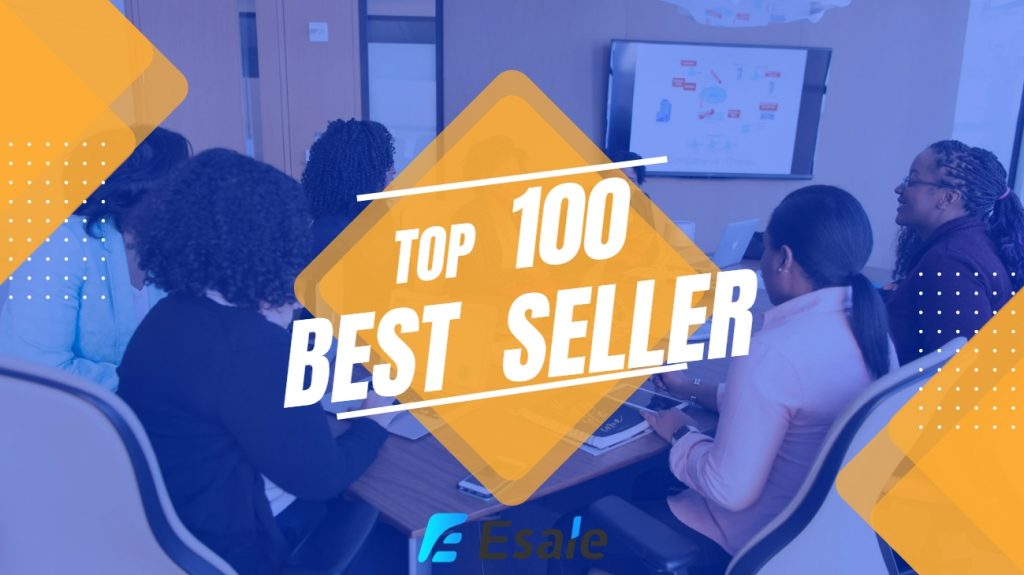 Etsy has become a thriving marketplace for creative entrepreneurs to showcase and sell their unique
products. With millions of sellers vying for attention, it's essential to understand the top performers
who have achieved remarkable success. In this comprehensive guide, we will delve into the world of
the top 100 Etsy sellers, exploring their strategies, categories, and locations. Whether you're an
aspiring seller or a curious shopper, this guide will provide valuable insights into the thriving Etsy
ecosystem.
Understanding the Top 100 Etsy Sellers
The top 100 Etsy sellers represent the cream of the crop in terms of sales volume. These sellers have
garnered significant traction and have become go-to destinations for buyers seeking high-quality
products. To gain a comprehensive understanding of the top sellers, we will analyze their categories,
locations, and sales figures. By examining their success, we can uncover valuable lessons and
strategies to apply to our own Etsy ventures.
Dominant Countries in the Top 100 Sellers
The United States leads the pack when it comes to the top 100 Etsy sellers, with a staggering 78 out of
the 100 sellers hailing from the country. This dominance can be attributed to the vibrant creative
community and the vast market potential in the United States. Following the United States, the United
Kingdom and Turkey have a notable presence in the top 100 sellers, showcasing the global reach of
Etsy's marketplace.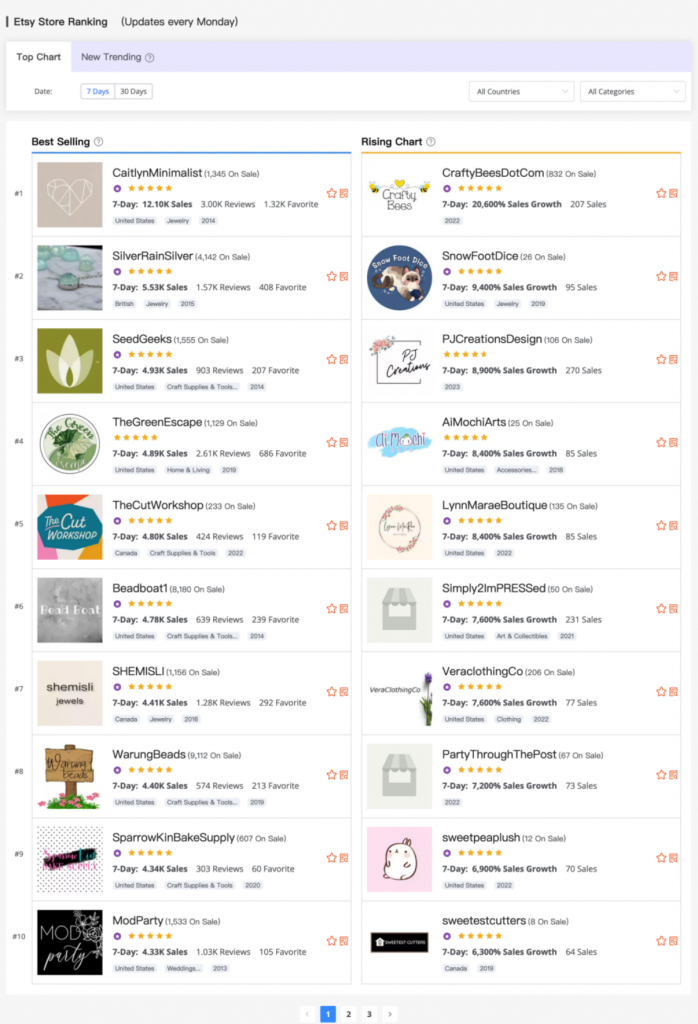 Exploring the Top Categories
Etsy encompasses a wide array of categories, catering to diverse interests and preferences. By examining
the top sellers' categories, we can identify the niches that have achieved remarkable success. The top
categories among the top 100 Etsy sellers include jewelry, home & living, craft supplies & tools, paper &
party supplies, and art & collectibles. These categories demonstrate the demand for handmade, unique,
and personalized products on Etsy.
Analyzing the Sales Figures
The sales figures of the top 100 Etsy sellers provide valuable insights into their success and market
demand. While the sales numbers may vary, it is evident that these sellers have achieved remarkable
sales volumes, attracting a large customer base. The top sellers have sold tens of thousands of products in
the past 30 days, illustrating their ability to meet customer needs and deliver exceptional products.
Strategies of the Top Sellers
To achieve success on Etsy, the top sellers employ various strategies that set them apart from the
competition. These strategies include effective keyword research, compelling product descriptions,
captivating product photography, and exemplary customer service. By studying the top sellers'
approaches, we can learn valuable lessons and apply them to our own Etsy shops.
Personalization and Made-to-Order Offerings
One significant trend observed among the top Etsy sellers is the provision of personalized and made-to-
order items. Buyers have the opportunity to add a personal touch to their purchases, making them even
more special and unique. Sellers offer customization options, allowing customers to select their preferred
variations and provide personalized information. This emphasis on personalization enhances the overall
customer experience and sets these sellers apart from the competition.
Free Shipping and Other Incentives
Many top Etsy sellers offer free shipping as an incentive for customers to make purchases. This strategy
aims to increase order value and attract more buyers. Sellers often set a minimum order threshold, such
as $35 USD, to qualify for free shipping within the same shop. By offering free shipping, sellers can enhance
their competitiveness and provide added value to customers.
The Global Impact of Etsy
Etsy is not just a platform for individual sellers; it is a global marketplace that empowers creative
entrepreneurs. In 2020 alone, Etsy purchases generated nearly $4 billion in income for small businesses.
The platform has created 2.6 million jobs in the United States, showcasing its significant impact on the
economy. Etsy's global reach enables sellers to connect with buyers from all corners of the world, fostering
a vibrant community of creativity and commerce.
The Diversity of Products on Etsy
Etsy is known for its diverse range of products, catering to various interests and tastes. While handmade
items dominate the platform, sellers also offer vintage treasures, craft supplies, digital products, and more.
This diversity ensures that buyers can find something unique and special on Etsy, further enhancing its
appeal as a marketplace.
Unleashing Your Etsy Potential
To unlock your Etsy potential and join the ranks of the top sellers, it's crucial to focus on product quality,
customer satisfaction, and effective marketing strategies. Conduct thorough research, identify your niche,
and create compelling listings that stand out from the crowd. Leverage social media, SEO techniques, and
Etsy's promotional tools to increase your shop's visibility and attract more buyers. By consistently refining
your products and strategies, you can pave your path to success on Etsy.
Conclusion
The top 100 Etsy sellers serve as beacons of inspiration and success in the Etsy ecosystem. By analyzing their
categories, locations, and sales figures, we can gain valuable insights into their strategies and approaches.
From personalized offerings to free shipping incentives, these sellers have carved their niche and achieved
remarkable sales volumes. By applying the lessons learned from the top sellers, we can enhance our own
Etsy ventures and unlock our full potential on the platform. Embrace creativity, innovation, and dedication,
and let your Etsy journey begin!