Alura Review: Is It Worth It for Etsy Sellers?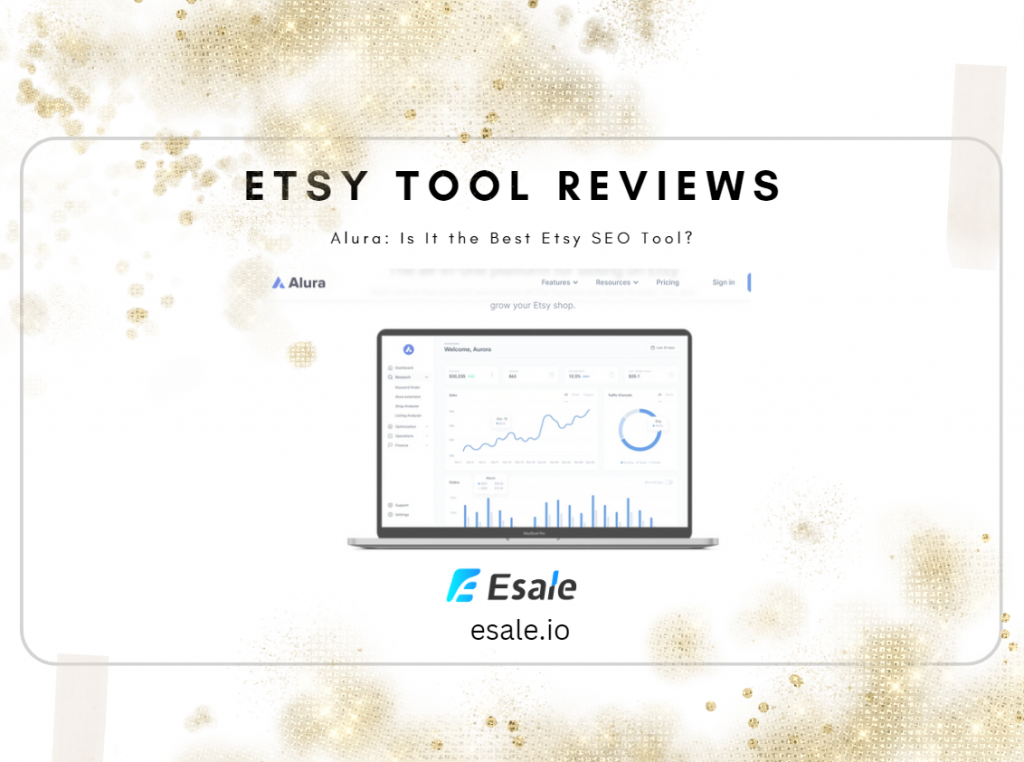 When it comes to selling on Etsy, staying ahead of the competition and understanding your market is crucial. That's where Alura comes in. As a leading Etsy market research tool, Alura is an invaluable resource for sellers looking to up their game. Let's delve into how Alura can revolutionize your Etsy selling experience.
What is Alura?
Alura is a market research tool specifically designed for Etsy sellers. It is used to help sellers with keyword research, product research, and listing optimization to improve their store's visibility and sales.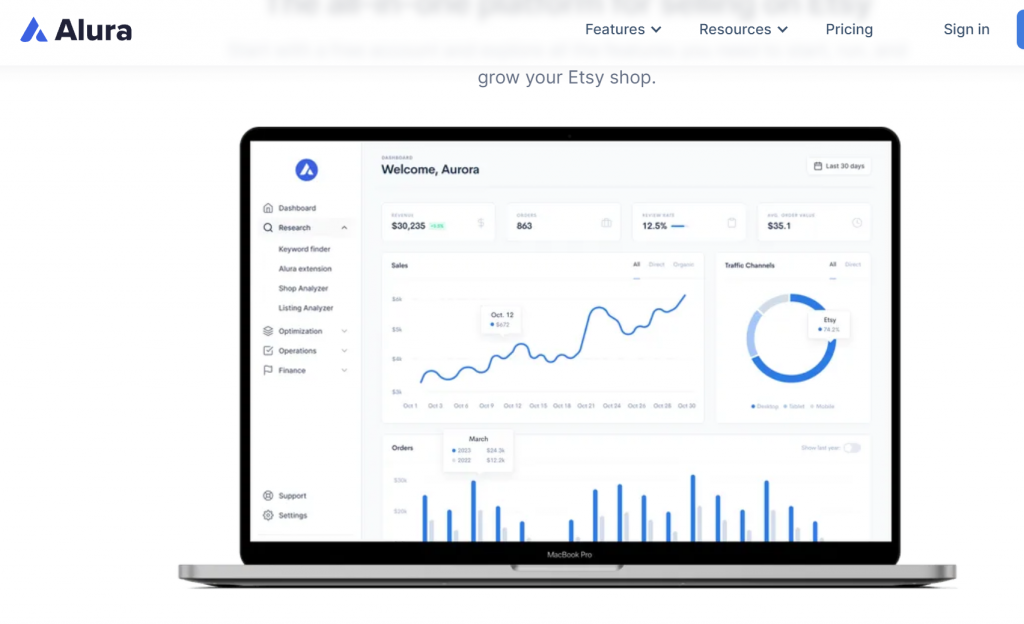 Alura Pricing: Is Alura Free?
The good news is that Alura does offer a free trial plan. This allows you to test out the software and get a feel for its features without making an immediate financial commitment. The free trial provides basic access to all of Alura's tools, giving you a taste of how this platform can help improve your Etsy business.
The Starter Plan, priced at $29.99 per month or $19.99 per month if billed annually, is designed for those just beginning their Etsy journey or those looking to enhance their operations.
The Professional Plan. At $49.99 per month or $29.99 per month if billed annually, this plan opens up a world of advanced features and priority customer support, equipping you with everything you need to optimize your Etsy store.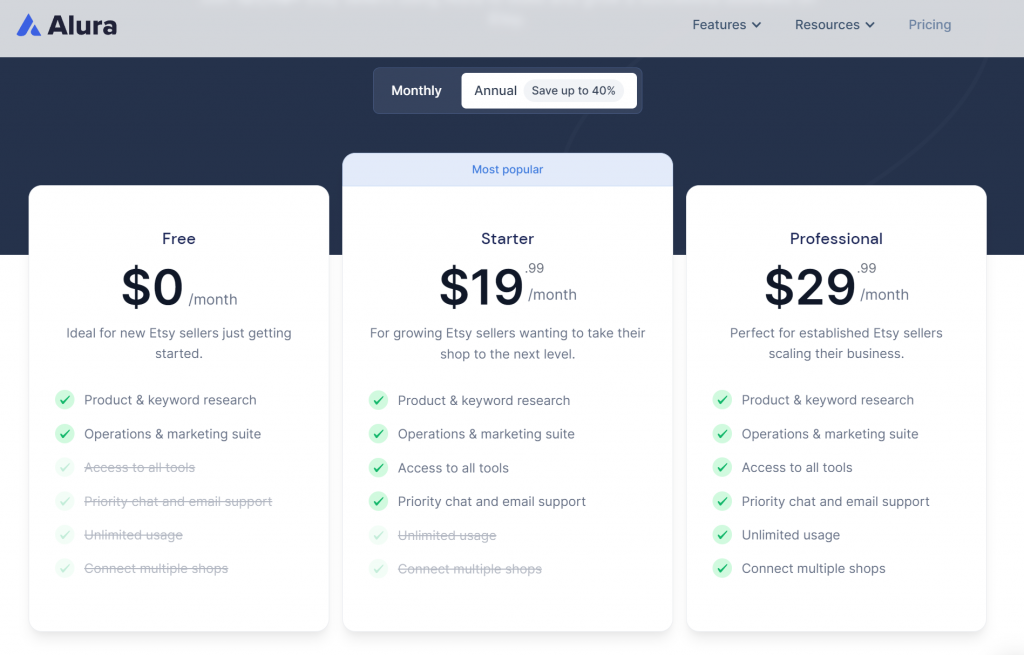 Alura Reviews: Is Alura worth It?
Based on its features, and user reviews, the answer would be yes. Here are some of its key features:
Keyword Finder: This tool helps sellers find high-performing keywords to improve their listing visibility. It provides you with SEO-friendly keywords that can drive more traffic to your Etsy store.
Product Research: With this feature, you can discover what products are trending, their average price, and how much competition there is. This information can help you identify profitable product ideas for your store.
Listing Helper: The Listing Helper assists in optimizing your product listings by suggesting improvements in areas like titles, tags, and descriptions.
Beyond these core features, Alura also offers an Etsy Privacy Policy Generator, an Etsy Fee Calculator, and a feature showcasing Best Selling Etsy Shops.
The Alura Chrome Extension is another fantastic feature that brings Alura's powerful tools directly to your Etsy browsing experience. Whether you're researching competitors or browsing for inspiration, the extension allows you to use Alura's tools without leaving Etsy's platform.
Despite its higher price point, Alura remains one of the primary Etsy market research tools in the industry. If the cost is a concern, exploring the following cheaper Alura alternatives could be an option.
Alura Tutorial: How to Use Alura for Etsy SEO?
As an Etsy seller looking to improve my SEO using Alura's tools, here's a step-by-step guide on how I would go about it:
Conduct Keyword Research: Once you're logged into Alura, navigate to the 'Keyword Finder' tool. Enter a keyword related to your product and hit 'Search'. Alura will provide a list of related keywords, along with information on their search volume, competition level, and engagement. Choose those keywords that are high in search volume but low in competition.
Analyze Competitor Data: Alura allows you to analyze your competitors' listings. Use the 'Product Research' tool to find similar products to yours and study their titles, tags, and descriptions. Note the keywords they use and how they structure their listings.
Identify Optimization Opportunities: With the help of Alura's 'Listing Helper', identify areas in your listing that need improvement. This could be adding more relevant keywords to your title, optimizing your tags, or improving your product description. Make sure your chosen keywords appear in your title and tags, as this is crucial for Etsy SEO.
Implement Changes: Now that you've identified what changes need to be made, it's time to implement them. Update your product listings based on the insights gained from Alura. Remember to keep your language natural and customer-focused, even when incorporating keywords.
Track Your Progress: After implementing changes, use Alura's tracking feature to monitor your listing's performance over time. This will help you understand if your changes are working and where further optimization might be needed.
Iterate and Improve: SEO is not a one-time process. It requires constant tweaking and improvement. Regularly use Alura's tools to stay updated on keyword trends and to continuously optimize your listings.
Alura Alternatives: Which is your Best Etsy SEO and Keyword Research tool?
Indeed, Alura is not the only player in the field of Etsy SEO, keyword research, and market analysis. There are a number of alternatives out there, each with their unique features and pricing structures. Let's briefly touch on some of the mentioned alternatives:
eRank: This platform offers keyword research, competitor analysis, and market trend tools. It's one of the most well-known Alura alternatives and also has a free plan available.
EtsyHunt.com: EtsyHunt, a comprehensive tool for Etsy sellers, provides an extensive library of product and shop information, equipping users with valuable insights to enhance their sales and marketing strategies. One of the standout features of EtsyHunt is its Chrome Extensions, which integrate seamlessly with your browser for an efficient and enriched Etsy browsing experience.
Marmalead.com: Marmalead offers keyword tools and market research specifically for Etsy sellers. It's similar to Alura but is often praised for its user-friendly interface.
EtsyCheck.com: This platform provides a range of tools to help sellers optimize their Etsy stores, including keyword research and SEO optimization tools.
DmmEtsy.com: DmmEtsy offers a variety of tools for Etsy sellers, including keyword research, SEO optimization, and competitor analysis.
Toolsy.io: Toolsy offers a suite of tools for Etsy sellers, including keyword tracking, competitor tracking, and listing optimization.
ProductFlint.com: ProductFlint focuses more on product research, offering tools to uncover trending products and gauge market competition.
SalesDoe.com: SalesDoe provides comprehensive keyword research tools and market analysis specifically for Etsy sellers.
SaleSamurai.io: SaleSamurai offers robust keyword research and SEO tools, along with a unique feature that helps find low-competition keywords.
Seller-Way.com: Seller-Way provides keyword research, listing optimization, and market trend analysis tools for Etsy sellers.
Koalanda.pro: Koalanda offers a variety of tools for Etsy sellers, including keyword research, SEO optimization, and competitor analysis.
Don't Miss the Free Etsy Tool - Esale!!!
In wrapping up this post, I'd like to introduce you to another tool that can significantly enhance your Etsy selling strategy. It's called esale.io, and it's a game-changer.
What sets esale.io apart from other tools is its comprehensive suite of features designed to streamline and optimize your Etsy store operations:
Store Analysis Module: This feature is equipped with automated tools for customer analysis and sales mapping, providing you with a deeper understanding of your clients and how your products are performing across different regions.
Category Analysis Module: This module helps you assess your own performance and understand the dynamics within your product categories. It's like having a personal business analyst, keeping you informed about the trends and shifts in your category.
Listing Optimization Module: This feature is a boon for sellers, aiding in keyword importation, auto-generating optimized titles and descriptions, and even comparing your conversion rates with industry standards. With this tool, you're not just optimizing; you're strategizing based on data. And, it comes with a one-click feature that allows for instant syncing with your Etsy store. No more time wasted on duplicating content!