Etsy Packaging Ideas for Sellers on a Budget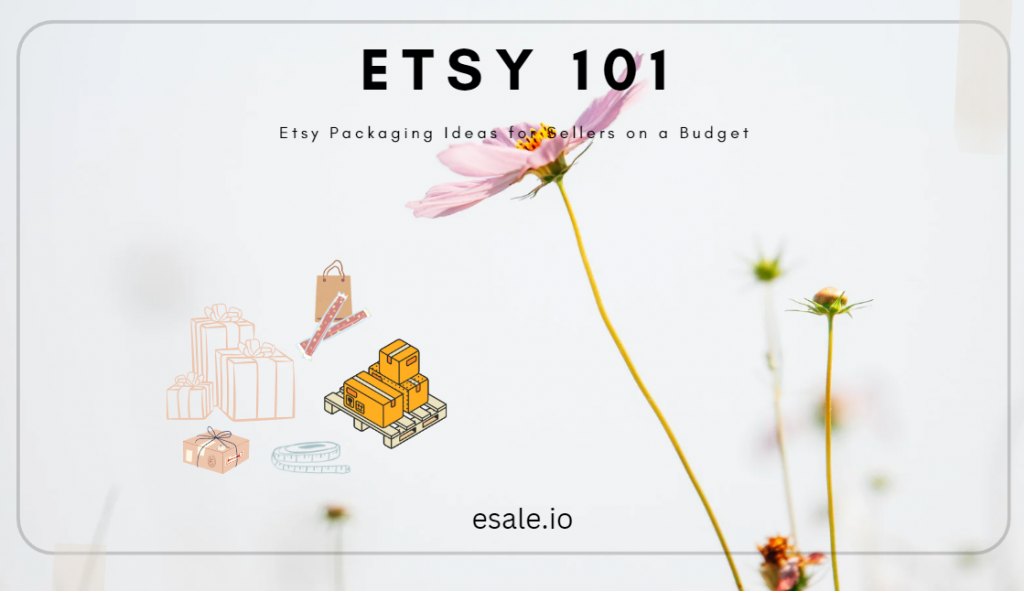 When it comes to running a successful Etsy shop, the importance of Etsy packaging should never be underestimated. Beyond protecting your products during transit, packaging plays a crucial role in enhancing the overall customer experience. It serves as a tangible representation of your brand, leaving a lasting impression on buyers and encouraging repeat purchases.
In this ultimate guide, we will explore various packaging elements, affordable ideas, and eco-friendly options to help Etsy sellers create memorable unboxing experiences for their customers.
Packaging Elements for Etsy Sellers
Branding and Customization
One of the key elements of effective Etsy packaging is incorporating branding and customization. By adding your logo, brand colors, and unique design elements to your packaging, you can create a cohesive and memorable brand experience for your customers. Custom packaging options, such as branded boxes or tissue paper with your logo, can elevate the unboxing experience and make a lasting impression.
Protective Packaging
When shipping delicate items through Etsy, it's crucial to ensure they arrive safely. Protective packaging plays a vital role in keeping your products intact during transit. Consider using cushioning materials like bubble wrap, tissue paper, or foam inserts to provide an extra layer of protection. For fragile items like earrings, jewelry, or stickers, using small boxes or padded mailers can help prevent damage.
Eco-Friendly Packaging
As consumers become more conscious of their environmental impact, incorporating eco-friendly packaging options can be a selling point for your Etsy shop. Choose sustainable materials such as recycled or biodegradable packaging materials. You can also explore alternatives like compostable mailers or reusable packaging solutions. By showcasing your commitment to sustainability, you can attract environmentally conscious customers and differentiate yourself from competitors.
Other Packaging Elements
In addition to the mentioned packaging elements, here are a few more worth considering:
Freebies and Samples: Including small freebies or samples in your packages is a great way to surprise and delight customers. It gives them a taste of your other products and encourages future purchases.
Instructions and Care Guides: Including clear instructions or care guides for your products can help customers understand how to use and maintain them properly. This enhances their experience and ensures they get the most out of their purchase.
Strings, Ribbons, and Stickers: Adding decorative elements like strings, ribbons, or stickers can elevate the presentation of your packages. They add a touch of elegance and make the unboxing experience more special.
Thank You Notes and Business Cards: Expressing gratitude through handwritten thank-you notes shows your appreciation for each customer. Including business cards in your packages is also a subtle way to promote your shop and encourage repeat business.
Social Share Cards: Encourage customers to share their purchase on social media by including social share cards. These cards can have a catchy design and a call-to-action, inviting customers to tag your shop or use a specific hashtag when posting about their new products.
By incorporating these packaging elements, you can create a cohesive and visually appealing brand experience for your customers. Remember to tailor your packaging to your brand's identity and consider the nature of your products to ensure they arrive safely and delight your customers.
How to Create Affordable Packaging Ideas
Utilizing Recycled or Upcycled Materials
If you're on a tight budget, consider using recycled or upcycled materials for your Etsy packaging. For example,
Recycled Cardboard Boxes: Repurpose used cardboard boxes from shipments or local businesses to package your Etsy orders. They provide sturdy protection and can be easily customized with branding elements.
Newspaper: Use old newspapers as void fill or wrapping material. Crumple the paper to provide cushioning or wrap products before placing them in a box or mailer.
Fabric Scraps: If you have leftover fabric scraps from your crafting projects, they can be repurposed as packaging materials. Cut them into strips or squares to wrap products or create unique packaging embellishments.
Glass Jars: Instead of traditional packaging, consider using clean and empty glass jars for items like cosmetics, candles, or small accessories. This not only gives a unique touch but also encourages reuse.
Twine or Jute String: Replace plastic-based ribbons or cords with twine or jute string made from natural fibers. They add a rustic and eco-friendly touch to your packaging while being biodegradable.
Upcycled Envelopes: Collect used envelopes, remove labels, and repurpose them by turning them inside out or adding decorative elements. They can be used to package small items or as additional protection within a larger package.
Vintage Maps or Book Pages: Give your packaging a whimsical touch by using vintage maps or book pages as wrapping paper or to line boxes. This adds a unique and nostalgic element to your packages.
Egg Cartons: Upcycle clean and empty egg cartons to hold small items or fragile products. They provide individual compartments for added protection and are an eco-friendly alternative to plastic trays.
Tissue Paper from Gift Bags: Reuse tissue paper from gift bags or other packaging to wrap your Etsy products. Smooth out any wrinkles or creases before use, and it's ready to add a pop of color to your packages.
Wine Corks: Save and collect wine corks to create custom stamps for branding your packaging. Carve your logo or initials into the cork, dip it in ink or paint, and stamp it onto your boxes or envelopes.
This not only helps you save costs but also demonstrates your commitment to reducing waste.
Affordable Packaging Suppliers
Finding affordable packaging suppliers is another way to save money while maintaining the quality of your packaging. Research online for suppliers that offer competitive prices or consider purchasing in bulk to benefit from bulk discounts. Additionally, explore local packaging suppliers or wholesale markets in your area to discover cost-effective options.
Here are 10 affordable packaging suppliers that you can consider for your Etsy packaging needs:
ULINE (www.uline.com) offers a wide range of packaging products at competitive prices, including boxes, bubble mailers, tape, and more. They have a user-friendly website and provide fast shipping options.
Paper Mart (www.papermart.com) is a comprehensive packaging supplier offering a variety of affordable packaging options such as boxes, bags, ribbons, and tissue paper. They also offer bulk discounts for larger orders.
PackagingSupplies.com (www.packagingsupplies.com) provides a vast selection of packaging materials at affordable prices. From bubble mailers to packing peanuts and tape, they offer budget-friendly options for all your packaging needs.
Nashville Wraps (www.nashvillewraps.com) Nashville Wraps specializes in eco-friendly and affordable packaging solutions. They offer a variety of products, including boxes, gift bags, tissue paper, and ribbons, with an emphasis on sustainability.
The Packaging Source (www.thepackagingsource.com) offers a range of affordable packaging options for small businesses. From shipping supplies to retail packaging, they provide cost-effective solutions without compromising quality.
ClearBags (www.clearbags.com) is a supplier of clear packaging solutions, including bags, boxes, and sleeves. They offer competitive pricing, and their website provides a user-friendly browsing experience.
Packaging Price (www.packagingprice.com) offers a wide range of packaging materials at affordable prices. They have a large selection of boxes, mailers, and packaging accessories to meet various business needs.
ValueMailers (www.valuemailers.com) in affordable shipping and packaging supplies. They offer discounted rates on bubble mailers, poly mailers, packing tape, and other packaging essentials.
Creative Bag (www.creativebag.com) offers affordable and stylish packaging options for businesses. They provide various bags, boxes, tissue paper, and ribbons, allowing you to create customized packaging solutions.
Packaging HERO (www.packaginghero.com) is a supplier of packaging products that offers competitive pricing on boxes, mailers, bubble wrap, and more. They cater to businesses of all sizes and provide efficient shipping options.
DIY Packaging Solutions
DIY packaging solutions can add a personal touch to your Etsy orders without breaking the bank. Get creative with materials you already have, such as twine, fabric scraps, or dried flowers, to embellish your packaging. Handwritten thank-you notes or custom-designed stickers can also add a personalized and charming element to your packages.
How to Make Cute and Eye-Catching Packaging
To create cute and eye-catching packaging, consider the following tips:
Creative Presentation
Experiment with unique wrapping techniques to make your Etsy packaging visually appealing. Try using patterned or colored tissue paper, wrapping items in fabric, or using decorative washi tape to seal packages. These small touches can elevate the unboxing experience and leave a positive impression on your customers.
Personalization and Surprise
Adding personalization and surprise elements to your packaging can make it even more memorable. Consider including handwritten notes expressing gratitude or including a small, inexpensive gift like a sticker or a sample of another product from your shop. These thoughtful gestures show that you value your customers and can go a long way in building customer loyalty.
FAQs about Etsy Packaging (Tracking, Shipping, and Troubleshooting )
Q: What types of packaging materials should I use to ship my Etsy items?
Depending on the type of product you are shipping, you can use packing peanuts, bubble wrap, tissue paper, Kraft paper, and other cushioning materials to protect your item during shipment.
Q: Is there any way to reduce the cost of packaging materials for my Etsy shop?
Yes, you can look for wholesale suppliers or bulk purchase discounts on packaging materials such as boxes, bubble wrap, and other supplies. Additionally, consider reusing packaging materials whenever possible.
Q: How do I package my items for shipping?
You should use sturdy packaging materials such as bubble wrap and packing peanuts to securely package your items for safe transport. Be sure to include a packing slip with the order information. Additionally, you can purchase shipping supplies from Etsy's shipping partners in the Shipping Labels section of your shop.
Q: How do I track my shipments?
If you have purchased a tracking label through Etsy, you can view your shipment's progress by visiting the Orders & Shipping section of your shop. You can also check the status of your order on the carrier's website using the provided tracking number.
Q: What happens if an item is lost or damaged in transit?
If you have included insurance on your shipment, you may be able to file a claim with the carrier to cover any losses. However, if you purchased a shipping label through Etsy, Etsy will not be able to reimburse you for any lost or damaged items. For more information about filing a claim with carriers, please refer to their individual policies and procedures.
Meantime, communicate with the customer, offering a replacement or refund as per your shop policies.
Q: How do I address size and weight concerns when packaging my Etsy orders?
To address size and weight concerns, it's important to accurately measure and weigh your products before selecting the appropriate packaging materials. Consider using lightweight but sturdy options to minimize shipping costs while ensuring adequate protection.
Q: What are the international shipping requirements I should be aware of when packaging my Etsy orders?
When shipping internationally, it's crucial to familiarize yourself with the customs regulations and packaging requirements of the destination country. Ensure that your packages comply with any size, weight, labeling, or documentation guidelines to prevent delays or customs issues.
Q: What should I do if a customer complains about the packaging of their order?
If a customer expresses dissatisfaction with the packaging, address their concerns promptly and professionally. Apologize for any inconvenience caused and offer a solution, such as a replacement or partial refund. Use the feedback as an opportunity to improve your packaging processes.
Q: How to ship on Etsy for cheap?
You can ship on Etsy for cheap by using a variety of discounted shipping options. For example, you can sign up for flat-rate envelopes and boxes through USPS and get a discount of up to 25%. You can also take advantage of the Etsy Shipping Labels feature to instantly purchase discounted shipping labels from the major carriers. Additionally, you can group smaller items into larger shipments to reduce costs. Finally, consider negotiating with carriers to get better rates or taking advantage of their bulk discounts.